READY TO JOIN IN ON THE ACTION?
Ready to join in on the fun and become a Pai Gow expert?
Let's go over the basics of how to play.
First, players must place their bets before any tiles are dealt. This can be done by placing chips in front of each player or the "Bet" area designated on the table.
Next, each player and the dealer will receive four tiles, which they will arrange into two hands - a two-tile "low hand" and a two tile "high hand." The low hand must have a lower value than the high hand.
The goal is to beat both of the banker's hands. If you successfully do so, you win! But if only one of your hands beats the banker, it's considered a tie, and your bet is returned to you.
Want to be the banker? You can choose to take on that role, but remember that you must have enough chips to cover all bets and have wagered in the previous round when the dealer was acting as a banker.
Ready to give it a try? Take a seat, and let the games begin!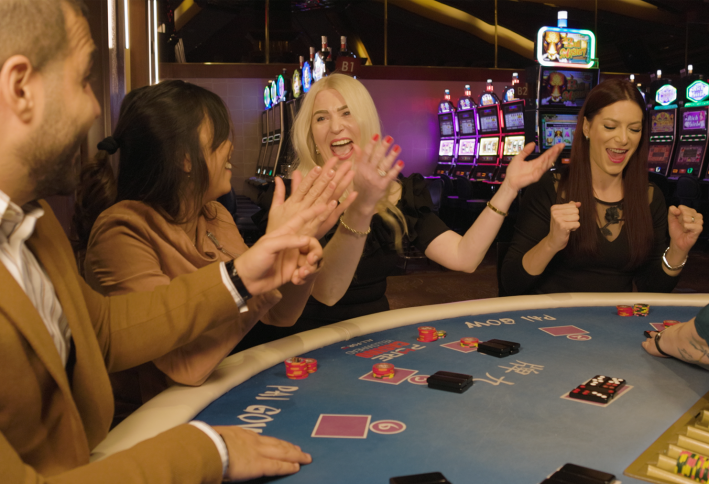 Welcome to the exciting world of Face Up Pai Gow Poker!
This variation on the classic game adds a little extra excitement But don't worry, it's easy to catch on - you have to make two hands out of your seven cards: one with five cards and one with two cards. Of course, the goal is for both of these hands to rank higher than the dealer's hands. If there is a seven-card ace-high hand, all players' hands will push (tie), and their base game wagers will be returned.
READY FOR SOME FACE-UP PAI GOW?
First, make your wager on the base game. And remember the bonus bet, which can earn you extra winnings based on your hand ranking. Then, seven cards will be dealt to both the player-dealer and the players. The dealer will set their hand first face-up, next arrange your cards into a five-card hand and a two-card hand - but make sure that the five-card hand is higher in rank than the two-card hand. This is called setting your hands. Then, it's time to compare your hands with the player-dealer's revealed hand. If both of your hands beat both of theirs, you win! But if only one or none of your hands beat theirs, the player-dealer wins. Then, it's time for a new round - remember to make those higher-ranked hands! Good luck, and have fun at the Pai Gow table.